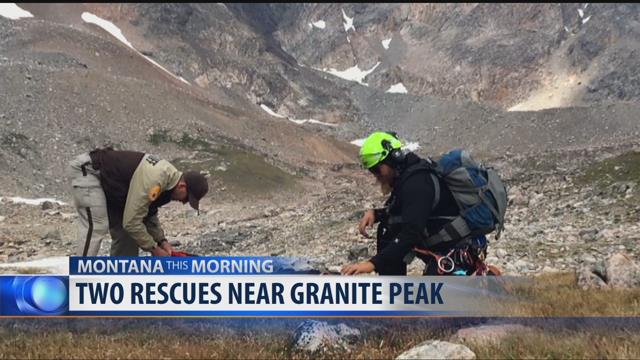 Thomas Craig Pfeifle, 19, of Rapid City, was airlifted near the summit of Granite Peak on Monday, August 8, following an accident and is in critical condition after being moved to Seattle.
He was rescued at 12,200 feet of the 12,808 mountain by Gallatin County high-angle rescue team and flown by Rocky Mountain Rotors after his climbers borrowed a satellite phone from another group.  He was flown to  Sky Top Lakes then another hospital in Bozeman and ultimately to Billings before being moved again to Seattle.
KRTV has video and adds a note about a second helicopter rescue at about the same time:
As this team was responding, rescuers received an update that the first call for help was a separate incident.

A 71-year-old man with a suspected cardiac event was taken from Sky Top Lakes to Cook City. The rescue crew was met by an ambulance to take the man to the hospital.

The Deputy-Medic then responded back to the Granite Peak area by helicopter to tie in with the high angle rescue team.

The patient from the first SAR mission was taken by ground ambulance to a hospital in Cody, Wyoming.